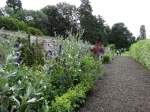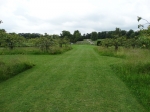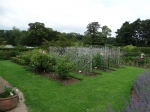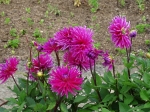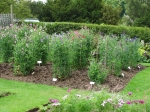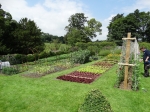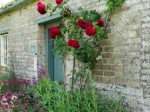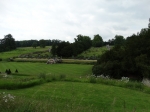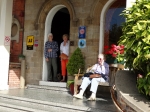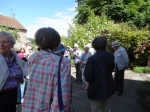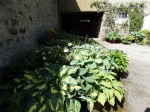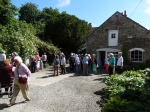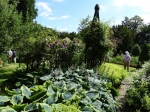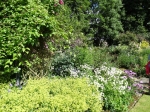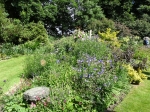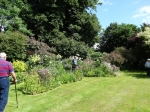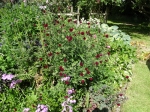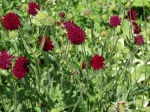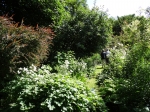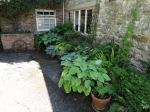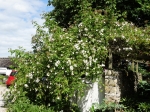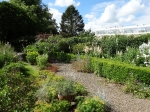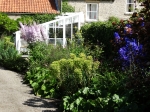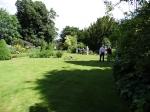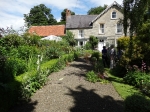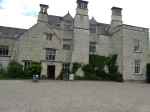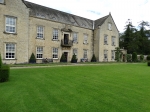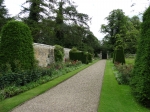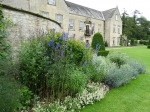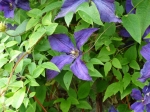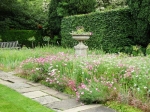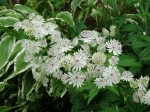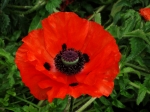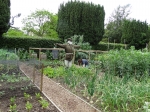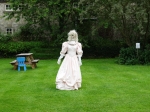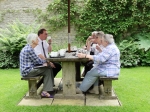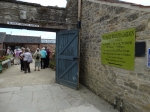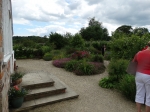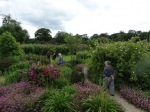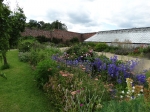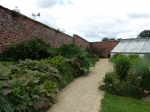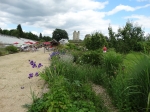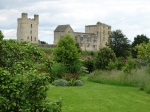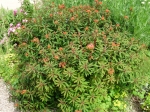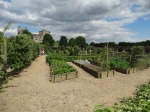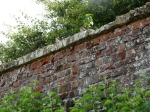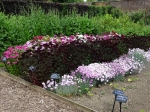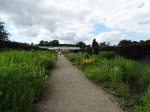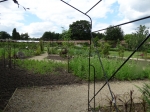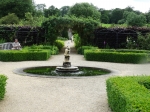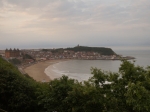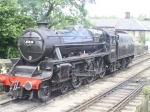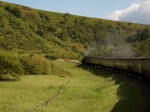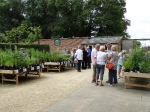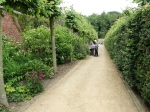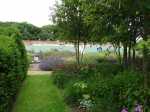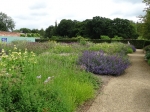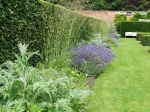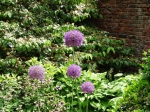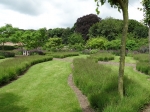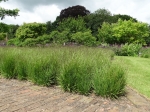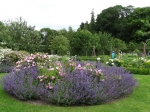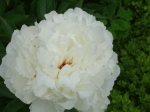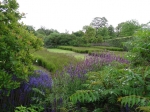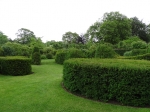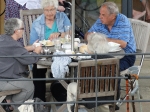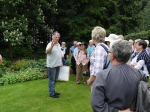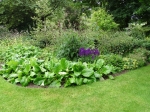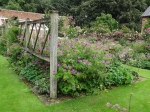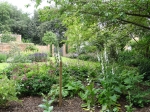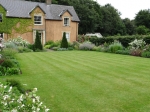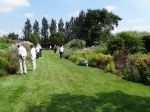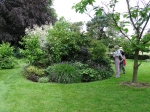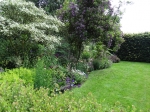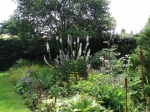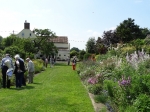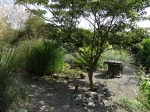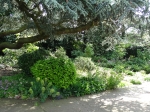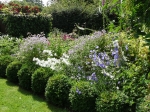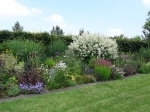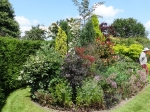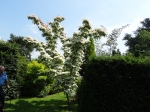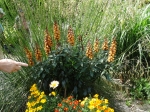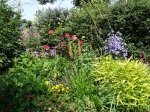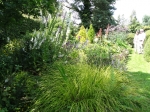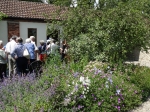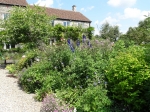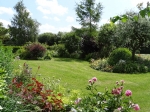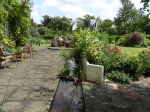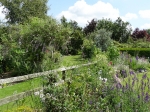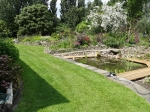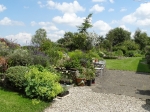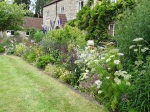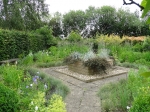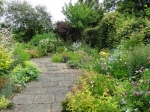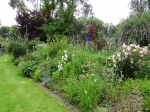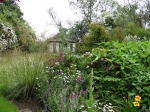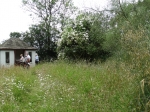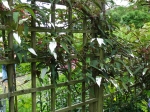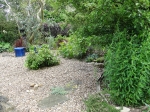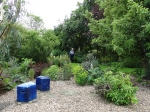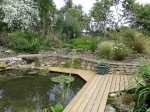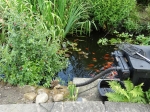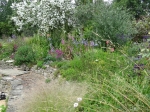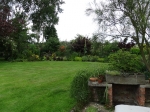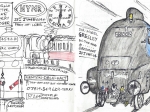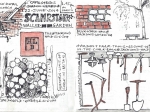 We are indebted to Roger, Terry, and Peter O for additional photographs and sketches.
Visit To Scarborough Exploring Gardens In The Area from 20th to 23rd June 2014 Report by Hazel F.
Our coach set off from Caldecote and travelled across Bedfordshire to various pick-up points. Our guests on the trip were welcomed and it was a pleasure to have four members from the Hertfordshire Group with us. Everyone was in good time and we set off for the North. We stopped at Easton Walled Gardens, unusual in that the house was demolished after the second World War and the 'lost' garden rediscovered in 2001. It is truly 'a work in progress' with young trees, shrubs, and lovely sweet peas. The lunch was good too!! We were soon at our hotel in Scarborough and after dinner we looked at the sea and walked along the esplanade.
On Saturday (21st) the weather looked good and we set off for Pickering Railway Station where we let five gentlemen off to enjoy the North Yorkshire Moors Railway (been there, done that) and I knew they would enjoy their day. (Now you know the reason for the train pictures.) The rest of us went to Friars Hill, Sinnington, a private garden owned by HPS members which was a medley of mature trees and areas of dense planting. A very large wooden obelisk was covered with so many climbers that I thought it might collapse! The garden contains 2500 plants mainly grown from seed.
Nunnington Hall was our lunch stop and we also enjoyed the well laid out organic garden. A wild flower meadow with trees and bees was overlooked by well stocked, terraced, mixed borders. Rose beds flanked a drive and on the opposite side were matching roses and climbers on a lovely stone wall.
Helmsley Walled Gardens, our next stop, had pleasant walks and well stocked borders. A scarecrow (hippy style) sat on a bench in the wild flower area, or so I thought until he turned a page in his newspaper!! The plant centre and cafe did brisk business.
After a later start on Sunday (22nd) we went to Scampston Walled Garden, a site of four acres designed by Piet Oudolf. We were all given a plant list with numbered plans of the perennial meadow, all the plants had a location key. There was also a map (very useful) of the rooms enclosed by the Plantsman's walk. A modern version of an 18th century mount gave an overall view of the gardens to those that climbed it!
Jackson's Wold Garden was our next stop, a truly lovely garden still being extended by its owners. A 'room' with climbing roses on large frames and colour co-ordinated shrub roses and perennials was at its peak. All the borders were glowing with colour – the angle of the sun and the fact that the garden is on chalk may help, but good cultivation gets my vote! Before dinner on Sunday we all gathered in the bar to present Rowena, our trip organiser, with a token of the group's thanks for all her hard work.
Monday (23rd) was our last day and we visited two gardens which are both owned by HPS.members.
As we travelled south we stopped to visit Bridge Farm House at Great Heck. The double mixed parallel borders are 130 feet long and quite lovely. Half a mile of hedges divides the garden with shady areas, boggy bits, ponds and happy hens who kept out of our way. Our last garden was Maspin House, Hillam, where we had some much needed tea and cake. Suitably refreshed we enjoyed a modern (very effective) rill and the Circular garden which led on to well stocked borders with seats amid scented plants. This garden was also being extended – perhaps the opportunity to do this is a double edged sword!
We continued southwards to a motorway service station to refuel ourselves and the coach. As we headed home the first drops of rain fell.
A truly marvellous trip with eight gardens visited, each one individual and interesting in its own way. We were lucky with the weather, the only thing the sub-committee of Rowena, Pam and Peter couldn't arrange – well perhaps they did. Thank you.
On a personal note; many thanks to everyone who held my sticks, passed things to me and picked up things I dropped. You were all a great help.